GMSV Shows Off Current Line-Up, Expects C8 Z06 to Land in 2023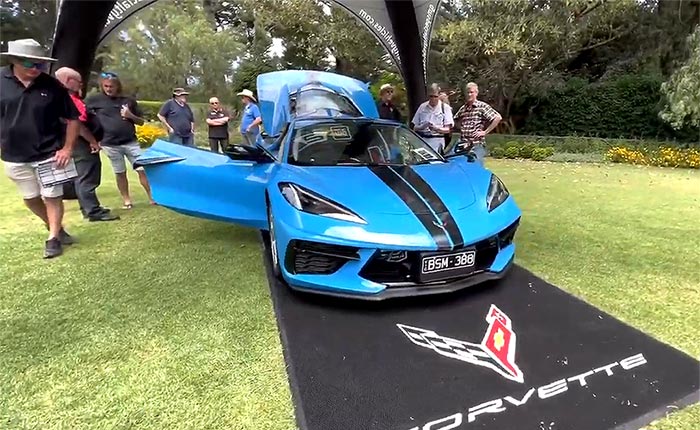 The leader of General Motors Specialty Vehicles says it's "a safe bet" that the 2023 Corvette Z06 will be arriving in Australian dealerships in early 2023.
GMSV Australia and New Zealand director Joanne Stogiannis told goauto.com the company will be in position by the middle of 2022 to begin updating plans for the new Z06 that will be available there for the first time ever as a factory right-hand model.
When asked if the first shipment of Z06s would arrive in Australia by early 2023, Stogiannis said: "[Y]our guess is a safe bet."
GMSV unveiled its Australian lineup together for the first time at the Repco Bathurst 1000 last week, with three RHD C8 Corvettes, a Heavy Duty LTZ Premium Silverado, and Silverado LTZ Premium and LT Trail Boss on hand for the week of racing activities held Nov. 30 to Dec. 5.
"It's taken many months to get to this moment," Stogiannis said, "but it's definitely been worth the wait."
She said thousands of people have been introduced to GMSV, which replaced the longtime but discontinued Holden brand, and the company has "had an unbelievable reaction when we've been able to showcase models from the lineup."
More than 2,100 new Silverados have already been sold in Australia and New Zealand and the first allocation of C8 Corvette Stingrays has been sold out, "a testament to the popularity and desirability of new models in the GMSV portfolio," according to Stogiannis.
Based on the popularity of those vehicles already being sold there, Stogiannis says it's possible other Chevy or GMC trucks or GM-sourced SUVs could also be offered in "The Land Down Under," a decision that would ultimately be driven by demand.
"There's nothing planned in the short term," Stogiannis said. "We've got three trucks aimed at different people in the marketplace, and I think as long as we can maximize sales to those different groups within the segment, I'd be pretty pleased. I think we've done really well considering the launch of the brand under COVID conditions, and from there we will continue to focus on these products for at least this year. But if I'm completely honest, you never say never."
She pledged continued support for past Holden products, saying: "I mean, we still have lots of customers that we support in the aftermath (of the brand's demise). It's a 1.6 million strong car parc, and this brand still needs our support."
At the same time, GMSV has been "really pleased" with the reception it's received from Holden customers. "Yes, there are going to be some people who have some animosity (towards GM), but there are also people who are really pleased that GM is here as GMSV," Stogiannis said. "They're pleased that we're going to events like The Bend and Bathurst 1000, and their response to the release of the new Gen 3 supercar was phenomenal. I think most people have moved on."
Source:
goauto.com.au
Related:
GMSV Makes First Visit to Australia's Spiritual Home of Motor Racing
General Motors Specialty Vehicles (GMSV) Celebrates First Birthday
First Right Hand Drive C8 Corvette is Registered for the Road in New Zealand
https://corvettesofwa.com/wp-content/uploads/Corvette_News_16-12-21_01.jpg
430
700
COWA
https://corvettesofwa.com/wp-content/uploads/logo.jpg
COWA
2021-12-19 08:32:15
2021-12-19 09:06:51
GMSV Shows Off Current Line-Up, Expects C8 Z06 to Land in 2023